Pretty ombre Prickly Pear Soda Floats fizz with tart homemade soda syrup and will make everyone grin!


Growing up in California was fantastic for a multitude of reasons but with one huge exception–our grocery store did not sell red cream soda. While this crime of oversight was epic in my mind, my parents remedied it by bringing back a few cases every time they went to Ohio on business.

If you're not familiar with red cream soda–Barq's brand in particular–it's basically cream soda tinted cherry red with almond and citrus notes on top of cream soda's usual vanilla flavor.
And while red cream soda is delicious straight out of the can, it really sings in an ice cream float.


I thought my mother, brilliant woman that she was, invented these out of thin air and worshipped her accordingly. Because when that cherry red soda swirled with scoops of creamy vanilla ice cream, the result was a pink cloud of awesome that resembled cotton candy of the highest order.
It's been over two decades since my mother last made me a red cream soda float but it is still one of my most cherished memories of her. Like other strong, lovely women, my mother battled breast cancer and died far too young.


She died in her early 40's and left behind seven children. I don't think I ever appreciated the magnitude of the sorrow she must have felt until I had my sweet Felix boy.
I can't imagine how it would have felt for her to think about all the things she would miss–and not just the big events like graduations and weddings, but the small everyday tasks like washing her children's hair, helping them with their homework, seeing them rise and learn from all the small failures that fill a young kid's life.
Today I want to honor my mother and the women who have fought or are fighting breast cancer with a sweet pink float that reminds me of her. It's not much but I think it would have delighted her, just like last year's Pink Lemonade Donuts.


I haven't been able to get my paws on red cream soda here in Michigan so I decided to make my own homemade syrup using fuchsia prickly pears. I grew up seeing these fruits dotting the cacti in the hills around my house but never knew you could eat them until I was much older.
You get to the fruit like you get to kiwi fruit–lob the top and bottom off, score through the skin and peel. It's a bit messy but well worth the effort.

The transition into new motherhood has not been easy for me but this week I've been remembering my own mother and holding my baby a little closer.
I know she would have loved to do the same.


I am honored to join forces with some lovely bloggers to Cook for A Cure. Visit their sites below to read their stories and recipes!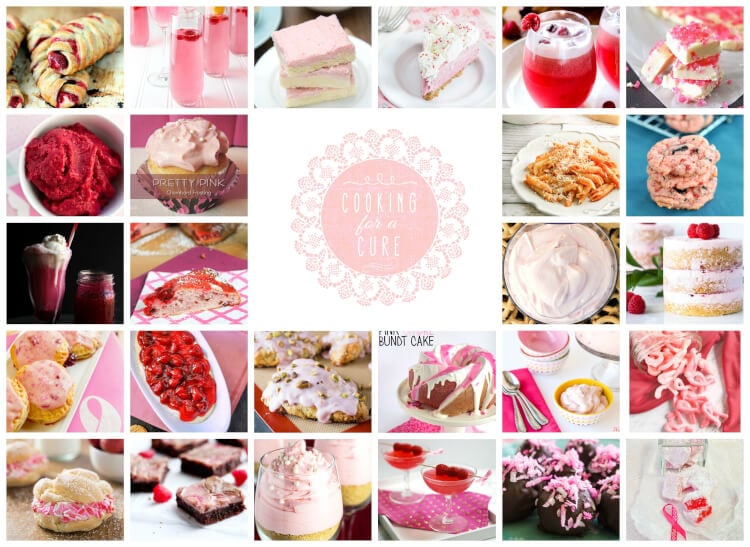 Strawberries & Cream Pastries by Domestic Superhero / Drink Pink Mocktail by Love Bakes Good Cakes / Strawberry Frosted Sugar Cookie Bars by Like Mother, Like Daughter / No Bake Raspberry Cheesecake by Sugar & Soul / Cranberry Raspberry Punch by Carlsbad Cravings / Pink Rock Candy Fudge by Kleinworth & Co. / Raspberry Sorbet by Food, Folks, Fun / Pretty Pink Chambord Frosting by Who Needs A Cape? / Lightened up Pink Vodka Sauce by A Dish of Daily Life / Strawberry Oreo Cake Mix Cookies by Just Us Four / Prickly Pear Soda Floats by Club Narwhal / Cherry Pie Scones by The Bitter Side of Sweet / Pink Fluff Dip by Mamal Diane / Pretty Pink Raspberry Vanilla Mini Cakes by Liv for Cake / Pink Pop Tarts by Life Currents / Strawberry Cheesecake Dip by The Love Nerds / Glazed Cherry Buttermilk Scones by Tastes of Lizzy T / Raspberry Vanilla Pink Ombre Bundt Cake by Cookie Dough and Oven Mitt / Berry Bliss by 365(ish) Days of Pinterest / Meringue Cookies by Mamma Loves Food / Cream Puffs with Strawberry Filling by Cooking on the Front Burner / Raspberry Cheesecake Brownies by Culinary Couture / No Bake Pink Lemonade Cheesecake Parfaits by Homemade Hooplah / Vanilla Berry Cocktail by Twin Stripe / Snowball Truffles by House of Yumm / Turkish Delight by With a Blast
Prickly Pear Soda Floats
Ombre Prickly Pear Soda Floats fizz with tart homemade soda syrup and will make everyone grin!
Ingredients
6-8 ripe prickly pears (to make 1 cup puree)
1 cup sugar
zest and juice of 1 lime
vanilla ice cream
selzer water
whipped cream for topping
Instructions
Use a rag to wipe prickly pears free of any sticklers. Slice the top and bottom off and make a vertical score (just deep enough to go through the skin) down one side. Carefully peel skin away from fruit and discard. Puree peeled fruit until smooth.
In a medium saucepan, bring prickly pear puree, sugar, lime zest, and lime juice to a boil. Simmer for 10 minutes then take off the heat to cool. Refrigerate before serving.
To make the float put 3-4 tablespoons of prickly pear syrup at the bottom of a tall glass. Add a cup of selzer water and a few scoops of vanilla ice cream. Top it all wit a dollop of whipped cream and a stripey straw!